Den sista dagen på 2020 års MyDog. Miami och Florida skulle ställas ut och Florida o Karat skulle tävla i rallylydnad. Den här dagen skulle det inte bli lika stressigt.
Först va det utställning med Miami och Florida.
Miami va först ut i ringen. Hon gick in med självförtroende och stod på bakbenen å "hånglade" med domaren länge, höll på att ta domarens bricka som hon hade på sig, den som domarna brukar ha på sig som det står domare på. Här är Miamis kritik:
Excellent head, Correct bite, Head with good proportions, Well placed eyes with good shape and colour, Correct mask, Ears of good size, Good neck and topline, Well angulated, Correct bones and feet, Movement could be a bit more parallelt, Good temperament.
Det blev HP och Miami blev BIR valp idag igen, så KUL att få gå in i finalen idag igen 😀
Efter några hundar så skulle Florida in och bli bedömd, hon skötte sig bra som vanligt i ringen 🙂 Här är Floridas kritik:
Excellent head, Correct bite, Wellplaced eyes with good colour, Correct earset, Strong topline, Correct tailset, Correct bones and feet, Moves well in front, Could be better in rear, Good coat and colour.
Det blev Excellent med CK och i konkurrensen kom hon 3e bästa tik med Reserv CACIB.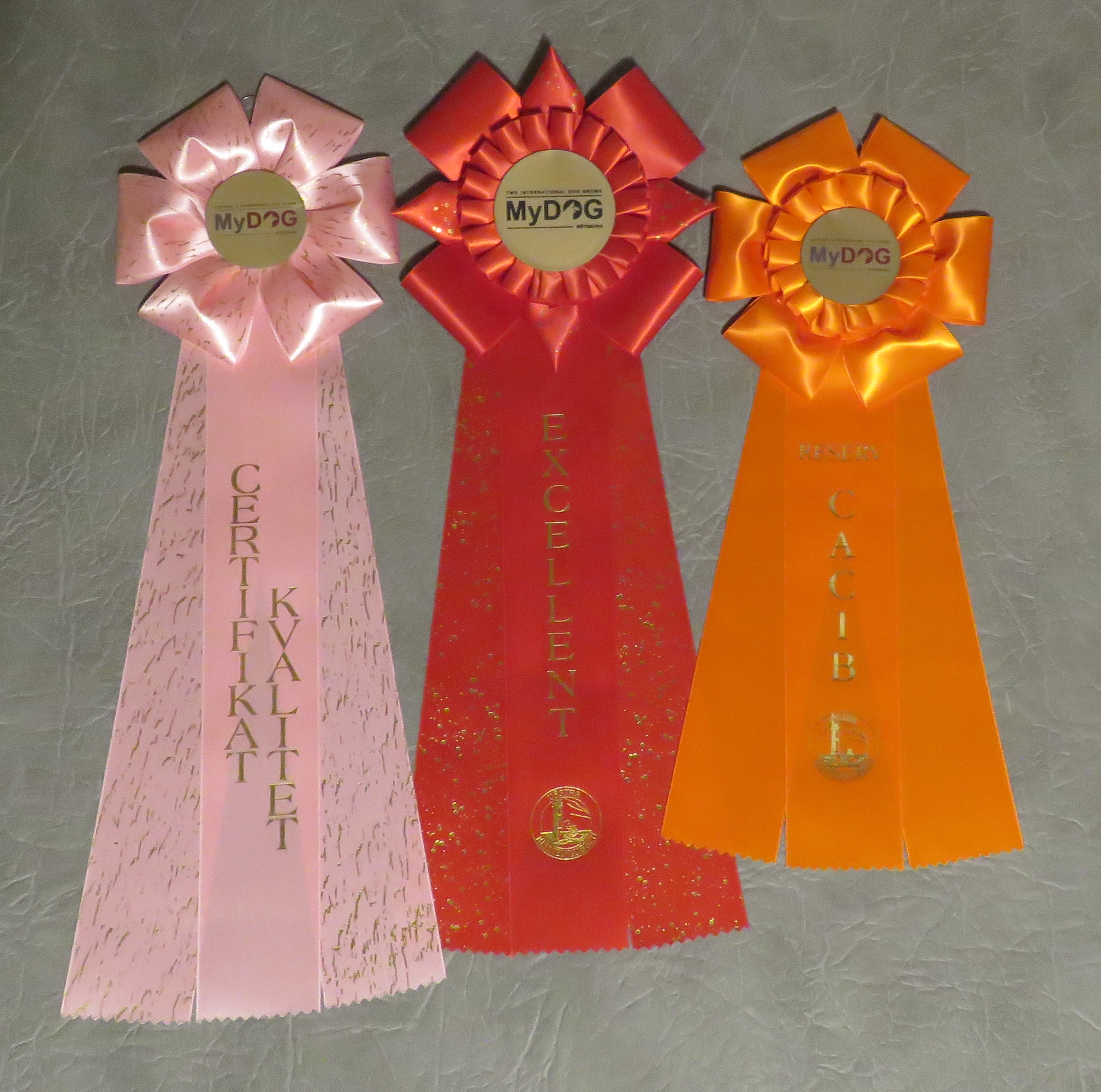 Nu va det dax för Karat att få tävla i rallylydnad igen. Eftersom att den förra starten gick bättre än vad jag väntat så va jag förhoppningsfull inför denna start.
På uppvärmningen så låg det en leksaksgris som en frestelse, å jag tränade på att han inte skulle gå fram till den, vilket gick bra. Men det skulle visa sig att det inte va bra alls att göra så 🙁 Jag visste redan att den STORA jordgubben låg i frestelsen på banan. Å Karat har VERKLIGEN svårt att låta bli att apportera den. Kolla filmen för att se vår runda.
Ja, som ni ser på filmen så apporterar han jordgubben och senare så lämnar Karat planen för att kolla grisen som han inte fick kolla innan han gick in 🙁 🙁 Så tråkigt, men nu har jag lärt mig att han ska få kolla saker utanför planen innan vi går in på planen. Resultatet av den lilla utflykten blev så klart en diskning.
Bara att bryta ihop och komma igen, kanske ska hem och sy en stor jordgubbe å träna på tills nästa gång. Domarens kommentar: Lugn och fin föring.
Sedan va det Floridas tur att få tävla i rallylydnad men i mästarklassen. Gick inte så super men hon va glad och med mig igenom banan, vilket vi har haft problem med förut. Det blev en nosning på frestelsen en fel övning och flera små fel som resulterade i 54 poäng kvar när vi va färdiga. Domarens kommentar: Bra kämpat.
Jag avslutar detta inlägg med ett kort på Miami med en av hennes BIR valp rosetter fotograferad på podiet.
Ses nästa år 🙂 Kram Lotta med TVÅ BIR Valp till Miami.