Den 4 augusti så va det dax för SBU (Svensk Belgar Utställning)
Man kan även kalla den Svenska Belgar Specialen.
Det va på den här utställningen som Casino skulle få ställas i Hedersveteran.
En klass för hundar 10 år eller äldre, men det va någon som ville annat

Ett stort TACK för alla värmande ord och kramar under den här dagen.
Hur gick det då för Florida och Zota som skulle ställas denna dag.
Det är faktiskt första gången sedan 2003 som jag inte ställer hane på specialen.
Vegas och Casino har ställts varje år dom har kunnat ställas, med varierande resultat.
Första ut i ringen av mina hundar va Zota.
Zotas kritik.
9 month, Excellent type head, Good lenght, Lovely eyes, ears and expression, Good neck, Could have more topline, Excellent condition, I would like a bit more reach and drive.
Zota fick Excellent

Kort på Zota.


Sedan va det Floridas tur.
Floridas kritik.
Big strong bitch, Good type of head, Nice eyes and expression, Good neck and shoulder, Excellent lenght of rear, A bit "doggy" expression I would like here more feminine.
Florida fick bara Very Good
Det va ju två av Zotas syskon på utställningen oxå som ställdes ut.
Hanen Nocco från Skåne och tiken Qvispel från Tullinge.
Kort på Qvispel.


Båda fick excellent och dom kom faktiskt 2a bästa junior hane och 2a bästa junior tik.
Kort på Nocco.


Oj vad roligt och va glad jag blev att det gick så bra för "mina" eldsjälar

Hoppas att dom vill ställa ut igen
Ja det va den här dagen.
Vi avslutar detta inlägg med att kort på alla syskonen.
Från vänster Nocco, Zota och Qvispel.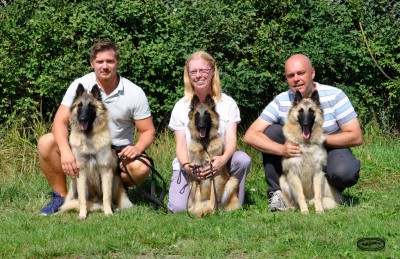 Tack till Carin som tog sig tid att fota oss
Vi bloggs
Kram Lotta