Den 3 juni åkte vi till Norrköping för att ställa på deras nationella utställning.
Florida och Zota skulle in i ringen.
Först ut i ringen va Zota.
Zotas kritik:
Very nice head, Gorgeous eyes, Rather narrow in front, Like more temperament, Close behind going away, Short step going around, Like a bit more bone of here.
Nä domaren gillade inte Zota så inget HP den här gången
Floridas kritik.
Pleasing head, eye and expression, Really nice ear carriage, Descent shoulder, Nice ribs, Abit long in loin, Descent going away, Descent coming towards, Prefer a better tail carriage.
Kanske inte den bästa kritiken Florida har fått men det räckte till Excellent med CK.
Sedan skulle vi in emot hanen och där blev vi slagna och blev BIM.
Inget att klaga på, egentligen det bästa man kan få. Hunden är bäst i sitt kön och får åka hem

Jag brukar nästan alltid stanna till finalerna.
Men ibland är det skönt att få åka hem utan att det känns surt att inte ha varit inne i den stora ringen och visat min hund för alla som är där.
Det är just det som är det roliga, att jag får visa MIN hund i den stora ringen
Kort på Florida och hennes rosetter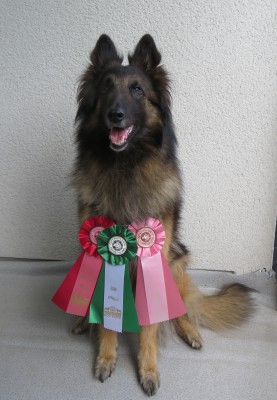 Kul med utställning
Kram Lotta