Sista dagen på Norrköpings tre dagars internationella utställning.
Florida och Casino skulle ställas.
Casinos kritik:
9 year, Correct size, Typical head, Clean expression, Well placed ears of medium size.
Correct bite, Excellent lipline, Very good neck, a little stiff in topline, Normal angulation and ribbage, In movement very good steps, Little loose back, Good carriage, Coat starting to show age.
Casino fick Excellent CK och kom 3a bästa hane.
Casinos rosett.


Floridas kritik:
5 years, Feminin slightly long body, Correct substance and bone. Typical head and expression, Correct bite, Very good near withers overline, Well balanced angulations, In movement good carriage, Tail slightly high.
Florida fick Excellent CK CACIB och blev 2a bästa tik.
Floridas CK rosett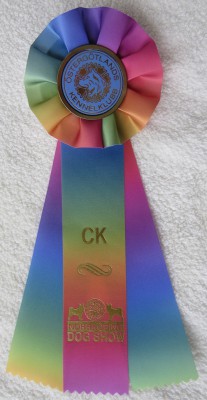 Ja det va dessa tre dagar, nu hem och ladda om inför morgondagens Nose work tävling i Strängnäs där Florida ska tävla.
Glad
Kram Lotta med två BIM till Florida.