Internationell utställning Norrköping 21 augusti 2016.
En av mina favorit utställningar eftersom att det har gått så bra för mina hundar här ända sedan debuten med Vegas 2005.
Alla hundar skulle ställas denna dag.
Först ut som vanligt va Karat.
Det gick bättre denna gången Karat kunde trava i ringen
men ville bara visa tänderna och inget mer.
Karats kritik:
7 months, A real youngster, Correct size, Square built, Needs more training, Long head, Unfortunately a reverse scissor bite, Correct neck, Correct croup and angulation behind, Needs more angulation in front, Like to se stronger feet, Needs to settle in front, Needs more training.
Inget HP idag men oj vilken trevlig domare. Honom ställer jag gärna för igen.
!!
8½ year, Rather big, Square built, Long head, Almost paralell, Dark eye, Well placed ears, Like a stronger underjaws, Correct neck, topline, croup and tailset. Needs more angulation in front, Nice coat, Strong feet, Correct mask, Good temperament.
Det blev endast excellent, men med det så blev Casino Bästa veteran och skulle in i veteran finalen
!!
Ell-ays kritik:
Medium size, Completely out of coat. Square built, Medium long head (almost parallell), Well placed ears, Correct bite, Enough underjaw, Correct neck, Like a better tailset, Needs more angulation in front and wideness in chest, Like stronger feet, Like more stability in front, Correct coat texture, Nice temperament.
Ell-ay fick Very good
Floridas kritik:
Medium size, Correct condition, Square built, Long feminin head almost parallell, Well placed ears, Correct bone and feet, Lovely coat, Mowes airily, Enough stability in front.
Florida fick ALLT!!!!!
Excellent CK Bästa tik CACIB BIR så nu skulle hon in i sin första Internationella final!!!
Han ÄLSKADE henne

När jag kom in i ringen med henne så log han stort och sa "This one I like".
Så nu va det bara att äta lite och rasta både mig och hundarna innan finalerna skulle börja klockan 15.00.
Först ut va Casino i sin veteran final, där blev vi oplacerade.
Sen va det bara att byta hund till Florida och gå in i grupp 1 finalen hon blev inte heller placerad.
Man blir inte så ofta placerad i finalerna på stora utställningar men kan jag så stannar jag och visar gärna upp mina hundar i den stora finalringen.
Vilken fantastisk dag
Den här domaren ska jag lägga på minnet. Jag skriver dock inte hans namn då jag inte brukar skriva andras namn i min blogg utan att fråga först.
Eftersom att det gick så bra så blev det STORA rosetter till Florida. Till Casino fanns det inte STORA veteran BIR rosetter så han fick nöja sig med den lilla som är gratis.
Floridas rosetter
!!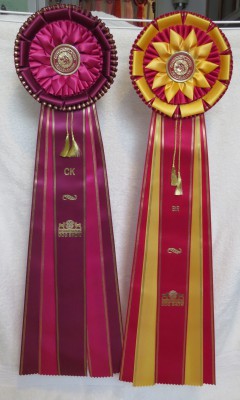 Casinos rosett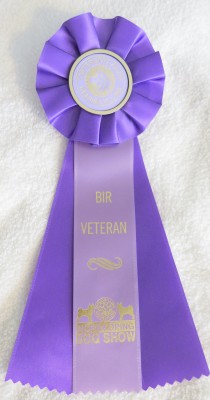 Ja det va Norrköping för detta året, 2017 har dom en tre dagars utställning i juni å självklart ska vi dit

Kram Lotta med två BIR hundar.