Dag två i utställningsringen.
Södertälje BK´s årliga nationella utställning.
Även denna dag skulle alla mina hundar ställas.
Först ut va Karat (som vanligt) tyvärr inget HP och domaren skrev ingen kritik pga att hon inte fick ta på honom

.
Casinos kritik hade kommit bort. Vet inte om ngn annan tog den eller om den bara slarvats bort.
Men jag fotade deras kopia så jag har den i alla fall.
Good size male, Good ears, Lovely dark eyes, Very nice movement, Correct tailset, Looks god for age.
Casino fick Excellent med CK blev BIR veteran och blev 4e bästa hane
Ell-ay´s kritik:
3 years, On the smaller size, A little .?.?.? in eye, Complete out of coat condition, Moving well, Lovely temperament.
Ell-ay fick Very Good
Floridas kritik:
4 years, Great coat an condition, Great size, Good dark eyes, Very steady on the move, Excellent presentation, Good showmanship.
Florida fick Excellent med CK vann championklassen och kom 2a bästa tik
Kort på Florida från dagen.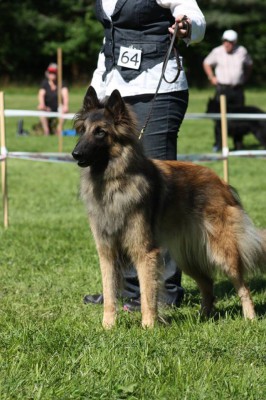 Lite bättre resultat denna dag.
Ha det fint

Kram Lotta