Den 3e augusti va det dax för årets stora special även kallad SBU.
Både Casino, Florida o LA skulle ställas å Casino skulle tävla lydnad Svenskt Belgar Mästerskap, SBM.
Det va även en inofficiell utställning för andra raser å dom skulle dömas innan belgarna.
Kände mig lite stressad eftersom att lydnaden skulle börja samtidigt å till den inofficiella utställningen va det inte så många anmälda.
Men som vanligt så e man nervös å stressad helt i onödan.
Lydnaden gick verkligen INTE bra. Det va varmt å Casino va inte med alls

.
Men vi kom på 2a plats av 4a å "vann" Svenskt Belgarmästerskap men tyvärr så hade vi inte nått upp till ett 1a pris som man måste få för att ta titeln. Vi blev alltså bästa belgare i denna klass.

Vi fick endast 147 poäng alltså ett noll pris.
Vi nollade 3 moment, hade 5or på 3 moment, en 6a å en 8.5, gruppmomenten gick däremot SUPER 10 på båda. Å då ger jag en eloge till Casino för det va mycket små flugor vid denna tävlingsplats.
Jag fick en kommentar från domaren. Att föraren är i alla fall glad.
Ja sa jag min hund ska tycka att det är kul även fast hjärnan inte riktigt fungerar i 30 graders värme.
Nu till utställningen.
Först ut va LA.
4 months, Complete scissors, Pretty little female of excellent type, So feminin and alert, Excellent long head with good parallell, Minimum stop, Tall ears high set, Excellent dark almond shaped eyes, Excellent dark mask, Beautiful expression, Excellent long neck, Good body shape, Good front and rear angulation, When settled she moves well.
En super kritik, domaren gillade henne verkligen, det blev HP å sen placerade hon LA på en 2a plats av fyra tik valpar.
.
Sen va det Casinos tur.
5 years, Complete scissors, Tall male of excellent type, But unfortunately no coat, Excellent long head minimum stop, Parallells are not quite level, Medium ears well set, Excellent almond shaped eyes, Medium color, Excellent mask, Good expression, Medium length of neck, Excellent lenght of withers, Excellent square body shape, Front angulation a little straight, OK in rear, Good movement.
Casino fick endast excellent hon höll CK´t pga pälsen.
Nu va det tokfian Floridas tur.
14 months, Complete level bite, Tall female of good type, Feminin Excellent long head, Minimum stop, Parallells are not quite level, Tall ears high set, Excellent dark almond shaped eyes, Excellent mask, Lovely expression, Excellent long neck, Good hight of withers, Body not quite square at this age, Narrow chest, Angulation a little straight in front ok in rear, Good movement.
Florida fick Excellent med CK
hennes första CK HÄRLIGT!!!!!
Sen kom hon 2a i bästa junior tik.
Vi hade även anmält till parklass som jag såg fram emot, eftersom att jag visar mina hundar (Casino o Florida) på ett annorlunda sätt, där Casino springer framför mig o Florida springer bredvid.
Men så snopet, vi fick aldrig visa oss i rörelse

vi skulle bara STÅ i ringen
.
SKIT tråkigt!!!!!!, vi kom i alla fall 4a hade varit intressant å se om dom andra paren hade kunnat visas i rörelse.
Här ett kort som togs när vi gick ut ur ringen, e dom lika eller? Samma ben fram å båda tittar på mig, gullungarna
.


Ja det va den dagen, nu hem å ladda om till Södertälje BK´s officiella utställning.

Ett kort från dagen på mig o A-te-ells Ell-ay "L.A."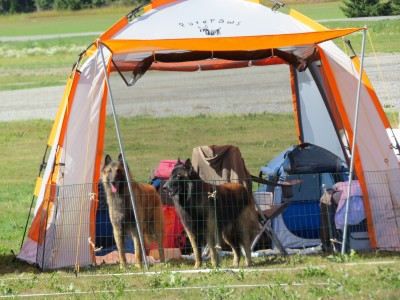 Ett kort på vårt nya tält.

Dagens lilla rosett skörd.
Kram Lotta