Den 16 juni va Florida o Casino anmälda till utställning i Avesta.
Har ställt här några gånger å det har aldrig gått bra, hoppas på bättre resultat idag.
Först ut va Casino.
5 years, Nice champion, Good bone and substance, good lenght in head, Skull and muzzle could be more paralell, Ears a bit wide, Excellent pigment, Good topline and tailset, Excellent colour, Good temperament.
Casino fick excellent med CK o vann championklassen å blev även bästa hane.
Floridas kritik.
Active in the ring, Very good type, She could be slightly shorter in back, Nice head, Good earset, Dark eye, Flat skull, Good pigment, Good strong level topline, Good coattexture, Tail carrige could be better, Moves with drive.
Florida fick endast Very good.
Vilket betyder att Casino blev BIR
.
Vi väntade självklart på BIG 1 finalen där vi tyvärr åkte ut.
I finalen så hade vi en Old english sheepdog framför oss, som vi med Casinos fina steg snabbt kunde varit ikapp om jag inte väntat lite med att springa in i ringen.
Tråkigt att få "långsamma" raser före oss in i finalerna. När jag får välja själv så ställer jag mig ALLTID först, för att slippa springa in i rumpan på hunden framför.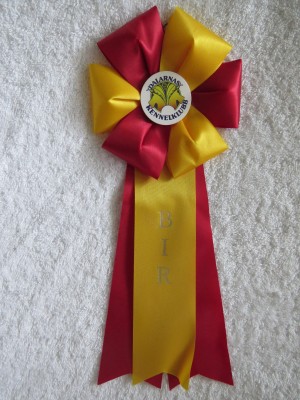 Casinos rosett.
Jag blev glad att det gick bra denna dag i Avesta, har alla gånger jag ställt i Avesta spanat in deras snygga rosetter, å ÄNTLIGEN så skulle jag få köpa en snygg CK rosett……..men ICKE

dom hade inte fått några vare sig Excellent eller CK rosetter

!!!!!!!
Snopet, men om jag åker hit nästa år så får jag helt enkelt köpa en då iställlet
.
Då va det bara att packa å åka hem.
Ha det super
Kram Lotta